Sign by sign astrology forecast for June 2022
ARIES (March 21-April 20)
This month you are all in on a new venture or project that promises to lift you into a new phase of your personal evolution this year. If you've been looking for the energy to bring into your own project or venture, this month Mars promises that you'll find it and bring your 'A' game.
You'll have Jupiter supporting you throughout the year, so use the presence of Mars in your sign to kickstart this and help you to kindle a flame that will burn brightly all year! If your financial situation has felt a disturbance in the last few months, you'll likely find a way to recover and move forward this month. In fact, it's possible that the eclipses we've had in Taurus and Scorpio could bring you the freedom to pursue something that lets you bring the entrepreneurial spirit you're known for.
At the end of the month, a new moon in your house of home and roots will let you establish a new sense of security in yourself. If you've felt limited in what you want to bring to the world and have needed to be aligned in a way that feels more integral, then this month will unfold to let you take a place that reflects your new sense of self more strongly.
TAURUS (April 21-May 20)
Last month, the eclipses may have done some extra work to unseat you from the habits of your life. If you're not appreciating the extra freedom that they're bringing yet, don't worry, you will soon know how necessary and helpful these changes will be for you.
This month you may feel your attention is extra focused on earning money, or work that brings a tangible value, but try not to let yourself spend all your time on practical matters because there is tremendous benefit to be gained from allowing your energy to direct itself inward.
Contemplation, dream work, or even chanting mantras can be extra beneficial to you all year, but this month there is a real theme of 'reap what you sow'. By consciously bringing yourself to pay attention to the subtle energy that moves us, you can become an active participant in relinquishing whatever it is that keeps you from fully engaging in life.
Whether you're feeling trapped and stuck, or in shock and electrified, bringing your awareness to what precedes your concept of what you should be, or how life should go will be the closest thing you have to a magic pill. This month gives you a direct connect to finding out how to fill that prescription.
GEMINI (May 21-June 20)
Happy Birthday, Gemini! This month you get to celebrate the end of another Mercury retrograde and your ability to adapt and pivot becoming even stronger. Mercury returning to direct motion is a signal for you to move forward from unexpected reversal of plans or intentions you might have experienced in the last few weeks. Your way forward should now be obvious.
The full moon on the 14th will reflect back to you just how much recent changes have changed your paradigm. It's possible to become aware of how differently you now see the world, or a particular relationship in the same way anymore. This will bring a certain level of freedom or expansion that you may not have known that you were looking for.
If you're a student, you're probably enjoying a temporary reprieve from the grind of classes and you'll be ready to enjoy the company of groups and associations that are aligned with your values. All of this year will bring you lots of opportunities to realize your dreams and wishes, but this month gives you an extra spring in your step when it comes to making things that are dear to your heart happen. Get out there and network, share what you've been busy with on social media and get ready to receive some inspiration and positive feedback that could bring you closer to something you desire.
CANCER (June 21-July 22)
This year, having Jupiter in your house of career and public identity promises some easy gains for you. For all of June, you'll also have the added benefit of Mars there bringing your energy and focus towards what you might want to achieve in that area of your life.
A full moon mid-month will bring something to fruition in relation to your daily habits and routines. If you've been working hard at the gym, or trying to improve your health in another way, you'll be seeing the results of that now. Early in the month there could be a setback in something you've been making progress in, but don't let that keep you down. Use it as an opportunity to explore any patterns that keep you in your comfort zone and from changes that you might be afraid of and don't forget to be gentle with yourself.
At the end of the month, you'll benefit from a new moon in your sign. You can use that time to refresh your look or to step forward in a new light. The time is right for you to align with what supports your embodiment and to share that with others.
LEO (July 23-August 22)
Put on your name tag and get ready to network, Leo! Last month's eclipses may have warmed you up to the idea of putting your name in print or expanding your client base in some way. This month you've got a green light to get out there however you can to spread the word.
If you've been active on social media, this month will be especially rewarding, but don't forget that networking was originally done face to face. With lockdowns ending, you might get a better return on your investment by joining a meet up group or a social club that's related to your business somehow.
You have a special advantage from hosting Saturn retrograde in the 7th house for the next few months. The opportunity to redefine your relationships extends from one to one relationships all the way to your public self. You don't have to be a different person in public than you are in private, but you do need to figure out what the right boundaries are for you to feel in alignment and integrity no matter who you're relating to.
VIRGO (August 23-September 21)
This month holds a special opportunity for you. After an intense retrograde period, your ruler, Mercury will be returning to the area of your chart that rules career and public image. Not only that, but the planet Saturn, which brings responsibility and pressure will be taking his turn to retrograde in your 6th house, the area of your chart that rules day to day obligations and duties.
My advice to you is to take this opportunity to withdraw some of the work that you put in behind the scenes. Is answering email or catching up on Slack during lunch or breaktime really so critical for upholding the reputation of the classic reliable Virgo that everyone can rely on to get the job done?
My point is that this is your thing, you're going to rock being reliable and dependable no matter what, but this month you might discover a more efficient way to shine at your workplace. Although it might make you feel uncomfortable, ask yourself what's wrong with still being recognized as competent and reliable without having to work overtime and on weekends?
LIBRA (September 23 – October 22)
Venus, your ruling planet has been busy mining for gold in a very powerful place in your chart. Along with the recent eclipse in the area ruling your attitude to birth, death, sex there's a potential to recover something in your psyche that has been limiting you. Anytime Venus travels through the underworld, she's bound to pick up on something that feels vaguely shameful and uncomfortable and as your ruler, you're especially tuned into where she is in your chart.
Tuning into this means you get to burn off the niceties that keep your relationships from being as real as they can be. Libra is naturally friendly and gracious, and is usually reticent to disturb the peace. This ability can come with a great cost and can even disable someone from being able to have relationships that aren't superficial and empty.
This month, take the opportunity to open your metaphorical closet and find the thing that you would 'never' have the courage to say, wear or do. You don't have to put it on, speak the words or do the act…just identifying what is taboo will give you the key to the treasure chest of deep, rewarding relationships.
SCORPIO (October 23-November 21)
Last month, you got a front row seat to what the eclipses are activating in your chart and in your life. My advice to you then was to surrender any rigidity or attachment that might have been revealed in regards to your relationships. Feelings we'd rather not recognize in ourselves have an uncanny way of showing up with our loved ones. By yielding any inflexibility that we bring, we can even heal relationships with people who are long gone and no longer present in our lives.
The freedom that can come from that is worth embracing because it can release you from the trauma of old pain or betrayal that you may not have known you were carrying from one relationship to the next.
By the time the new moon on June 28th arrives you will have gained a lot of clarity on any undercurrents in your relationships that get in the way of new horizons of emotional depth.
SAGITTARIUS (November 22-December 21)
If you haven't yet been taking advantage the transit of Jupiter through your 5th house of romantic love and children, you soon will be. In the next year, it's likely that you'll be jumping headfirst into a creative project, a new love affair or spending much more time with children, opening you up to the creative energy of play and self expression. All of this 5th house energy is part of the special alchemy that is helping to redefine who you are. 
A full moon in your sign, followed by a new moon in your 8th house signals that you are coming to figure out exactly what your needs are and how to meet them. If you've been under pressure to communicate something or to collaborate this month, allowing yourself time to withdraw will help you to define exactly what you need to say.
Use that new moon to open yourself to a deep dive on how you really feel about a situation. You're likely to discover an ability to redefine boundaries that support the person you've become.
CAPRICORN (December 21-January 20)
This month, your ruler, Saturn will begin a retrograde phase that will last until October. You're a cardinal sign, good at directing energy towards your goals and capable of the discipline to get you there.
This month, if your dedication falters, or if you feel like the weight on your shoulders is too much to bear, take time to connect with the source of that feeling. Try to spend time with people who know you and can help you take stock of what you've achieved and what remains to be done.
Taking advantage of this time to remove what is extraneous in your life means that you'll have access to easier gains this October when Saturn returns to direct motion in a final pass out of your house of money and earned income. This is a great time to revise your household budget and to challenge yourself with the mantra 'less is more' to maximize the gains in this area of your chart before he leaves in March of next year.
AQUARIUS (January 21-February 18)
The last few years may have felt like a karmic pressure cooker for you and it's likely that you've taken on more than you thought possible. Although your trials are not yet over, they will feel lighter this month; Saturn turning retrograde in your sign will alleviate some of that pressure this month until late October.
The key to taking advantage of this period is to dedicate some time and space in your life to take stock of where you've been directing your energy and how you can reclaim some of this energy. The full moon of June 14 may bring you into a social environment that can bring your awareness of how you can do this.
By taking the opportunity to follow your desires back to your original idea or wish you can ensure that when Saturn turns direct again in October, you'll be feeling aligned and ready for the final gauntlet.
PISCES (February 19 – March 20)
You may be feeling restless this month, but don't let this destabilize you. There is a necessary course adjustment happening that is gradual that you will greatly benefit from.
The key is to trust your inner guidance and to check in with it often because what you're doing now is preparing the ground for future success. If you discover cracks in your ability to trust, lean into those cracks rather than away from them. This is a process that is going to make you more solid in the long run, even if it feels like the opposite is true.
Tremendous earning potential is available to you this month but this should not get in your way to recalibrate your approach to be gentler, softer and more accepting of yourself in a way that's equal to how you are gentle and kind towards others.
---
Suzana Da Costa is a counselling astrologer and homeopath.  She's been a holistic health practitioner since 2016 and currently works in private practice and as a mentor for diploma program students at the Montreal Institute of Classical Homeopathy. She's passionate about helping people step out of old patterns of behavior and discover how to align with the larger energy patterns that move us.  She can be reached at suzana@heartstarhealing.com.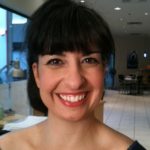 Suzana is holistic counselor, homeopath and naturopath. She holds a multidimensional approach that supports the individual in their evolution of self and healing journey. Passionate about astrology for over 20 years, she loves incorporating it into her work facilitating people on how to make the most of their natal energy pattern while helping them integrate what is happening on the collective, or transpersonal level of experience.